HANDS ON VOLUNTEER OPPORTUNITIES
These organizations have volunteers from St. Boniface working with them. They also have volunteer opportunitites available for others. If you are interested, contact the organization or talk with the St. Boniface contact listed below.
Our Next Generation -- Rich Dean (262) 241-5812 or email him.
The Gathering -- Nancy Jacobs, (262) 242-6672 or email her.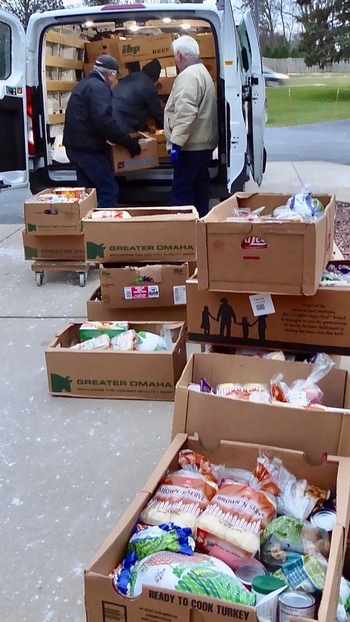 70 boxes full of complete Thanksgiving dinners on their way to students at Our Next Generation!
Howard's Holiday baskets is in its 23rd year of supplying complete Thanksgiving dinners to students through Our Next Generation. A long-time member, Howard Hinton, began the ministry and his legacy continues as St. Boniface continues to support this worthy mission.
Many hands make light work! Members and friends of St. Boniface had everything packed up and on its way in under two hours. Team work and togetherness made for a rewarding time together.